Maureen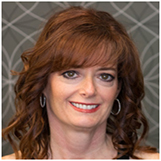 With over 30 years experience as a stylist in the Tecumseh Area, Maureen has continued to demonstrate her passion and commitment to education by keeping herself current with the lastest Hairstyles for Men, Women, and Children. Most recently she earned the honour of becoming only 1 of 3 local REDKEN CERTIFIED Haircolour specialists.
Maureen has excelled in hands on training from the world renowned SEXY HAIR Concepts- Institute of Courage in California, Robing Barker, Martin Parsons as well as Redken 5th Ave. Pursuing her love of education and craft Maureen has also attended hair shows from Toronto to Las Vegas.
Maureen`s passions are Haircolour and Perming while ensuring that each and every client recieves a world class experience in her chair.